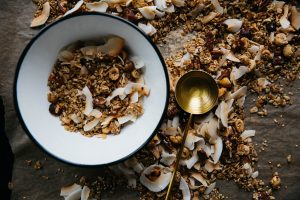 Taking Back Birth – 10 Pregnancy Nutrition Hacks
Why this podcast?
Because, and I know you are not supposed to start a sentence with because, but anyway, because I subscribed to this podcast many moons ago and realised recently that I have only featured it once.  The founder and main host, Marin Green, was actually interviewed on another podcast that I listened to the other day and I took that as a bit of a sign to get my butt in gear and feature another episode!
This podcast is one of the resources from Indie Birth. Indie Birth's homepage features the following statement –
"THE INDIE BIRTH PRIVATE CONTRACT ASSOCIATION IS A SOURCE OF INSPIRATION AND KNOWLEDGE FOR THE MODERN PREGNANT WOMAN WHO KNOWS THAT HER BODY AND HER BABY ARE WISE; AND FOR THE MODERN BIRTHKEEPER WHO BELIEVES IN THESE WOMEN AS MUCH AS WE DO."
Pretty amazing, I think.
As well as the Taking Back Birth podcast, Indie Birth has links on their website to their manifesto, various resources, education and a blog. It's definitely worth a visit.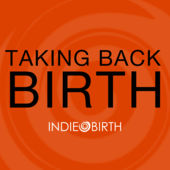 How does it look?
The podcast started in June 2013 and is still going strong. Episodes include –
– Haters Gonna Hate: Social Media and The New Birth Paradigm
– Getting Real About Postpartum
– All About Long Labours
– When Will It Happen? Staying Present During The Weeks Before Birth
– Releasing Anxiety In Pregnancy
– Sacred Blood: Embracing The Power of Birth Through The Sacred Moon Cycle
– Does "Routine" Increase Risk In Pregnancy &
– Past The Due Date: Why The System Wants You To Freak Out and What To Do About It
Why this episode?
This is quite a fun one compared to some of the heavier, perhaps you could say more spiritual or deeper subjects that are featured on Taking Back Birth but still an important one. I liked the fact that Marin pointed out that there is very little that you can control during pregnancy but what you eat and drink is totally down to you.
Who should listen to this episode?
Anyone who is expecting and wants to get some tips on what to include for a super healthy pregnancy.
The episode
I'm just going to jump straight in if that's ok with you. Oh, I will just say that if you are allergic to or choose not to eat any of these things just skip them or, if you're feeling creative, find something similar that works for you.
#1 – Bulletproof tea
I love that Marin says that a cup of coffee a day during pregnancy is probably fine, but if you are off coffee or just prefer tea, this can be a great way to drink it and ensure you are getting enough calories. Ready?
First, make some tea. Chai works well.
Second, throw it in the blender.
Third, add a tablespoon of organic coconut oil, some ghee or butter and blend.
Fourth, sit back and enjoy!
#2 – Green powder
Marin stresses that having greens in your diet is best but if for whatever reason that's not happening, this can be a good way to include the goodness anyway. You can add the powder to a smoothie, juice or yoghurt.
 #3 – Liver capsules
If like me, you don't eat meat you can skip this one but if you simply can't stand liver this could be a great way to get some more iron into your diet.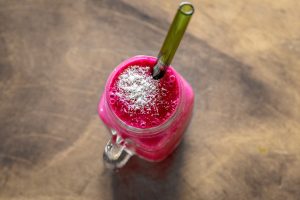 #4 – Smoothie
You can put what you want in a smoothie and it's a great way to get lots of fruit and veggies as well as extra calories in. Marin specifically mentions avocado, raw eggs (if you can trust their quality and source), yoghurt, coconut oil and greens.
#5 – Almond flour
High fat, high protein and high in calories. Just use it instead of your regular flour. It's as simple as that!
#6 – Coconut butter
Apparently, you can do more with this than just rub it on your skin. Marin suggests adding a spoonful to a smoothie, spreading it on toast or even just eating it out of the jar.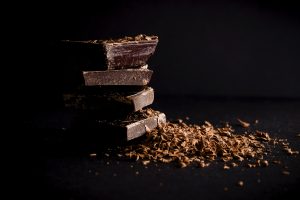 #7 – Chocolate
Making your own that is. High in fat and calories in case you are struggling to get enough of those during your pregnancy and, as you are making your own, you can easily limit the sugar.
#8 – Baked sweet potato
High in Vitamin A, cover in butter or coconut oil, roasted pecans for protein and either eat as it is or as a side dish to a higher protein meal.
#9 – Homemade trail mix
Nuts, seeds, fruit, raisins, cranberries, maybe even some chocolate chips. Throw in a bit of sea salt, maybe a little oil. Yum!
Protein and fat in one snack.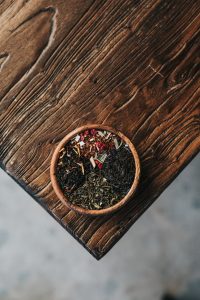 #10 – Herbal infusions or bone broth
These are great in providing lots of minerals that may not be so easy to get otherwise.
You take the herb of your choice and make a tea-like liquid but, because you steep it much longer, it becomes more intense, almost medicinal.
Check out Susun Weed's website to learn about making infusions.
If that doesn't appeal then bone broth is great for gut health as well as being rich in minerals.
To wrap up
Some of these may be more appealing than others but they can all help you to keep super healthy during your pregnancy so it's definitely worth trying them out.
Let me know your favourites!
Emily Wills is a doula based in Stockholm. She believes that birth can be a beautiful and empowering experience and started this blog as a way of sharing some really great podcasts. She is also a mother of three and an enthusiastic runner.